Tis the season to be a hockey fan, fa la la la la, la la la la. Alright most of you probably have some hockey fan in your life that you are wondering what to get for Christmas this season? There are a number of great gifts to give your favorite hockey fan this Christmas, but in case you needed some ideas for the perfect gift for the hockey fan in your life, we thought we would help you out with some ideas.
15 Cool Hockey Gifts for Christmas 2015
The Hockey Fanatic is pleased to present the top hockey gifts for the hockey fan in your life.
Hockey Book: Hockey Towns: Untold Stories from the Heart of Canada – the new book by Ron Maclean. These are stories you've never heard before. From London to Castlegar, Yellowknife to Cole Harbour, Medicine Hat to Trois Rivieres, from Bantam to Junior B to the NHL, our country is full of great characters: Players, coaches, hockey moms and hockey dads; rivalries, practical jokes, careers that grew out of nothing and "can't lose" prospects who flamed out too soon; spectacular triumphs, heart-breaking tragedies and tales of friendship, betrayal, love and loyalty, all
compelling, entertaining and inspiring.  When you first meet Ron MacLean, he asks where you're from, and he always comes back with a story. No one has crossed this country more than MacLean. In his 28 years on Hockey Night in Canada and now as host of Rogers' Hometown Hockey, Ron has met fascinating people from coast to coast and has great stories to tell. Now, in this new book, MacLean is back, with brand new tales from across the country. Available at Chapters for $19.79.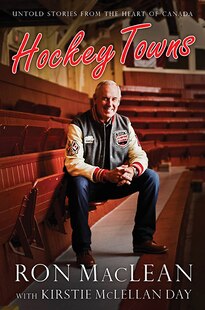 How about some good old fashioned O-Pee-Chee hockey cards? The 2015-16 O-Pee-Chee Hockey Cards are now available at retail stores or online now. 2015-16 O-Pee-Chee Hockey combines the old-school look and feel of years past with the players of today (and some old timers sprinkled in here and there). Opting for nostalgia over guaranteed hits, it has a big checklist, several inserts and plenty of throwback designs.  The base set returns as another 600-card behemoth. The main base set has 500 cards. Product Configuration: 32 packs per box, 8 cards per pack. Target Audience: Set Builders, Retro-Minded Collectors. 
Hockey Jersey from their favorite team. What is more cooler than an official licensed hockey jersey from your favorite team? Chances are the hockey fan in your life probably already has a hockey jersey of their favorite team, but new designs and third jerseys have become very popular. Perhaps a personalized jersey or a jersey with their favorite player's name and number may be in order. Take a look at some of our favorite hockey jerseys of all time.

Subscription to the Hockey News – we have been subscribers to the Hockey News for years. The issues are jammed packed with hockey news and information and throughout the year you get special issues including the Annual yearbook. New subscribers can get 72% off for a limited time. A one year subscription is quite affordable at $32.95. 

Hockey Book: Hockey Night Fever: Mullets, Mayhem And The Game's Coming Of Age In The 1970s – another great hockey book by Stephen Cole. 496 pages of great hockey tales from the seventies. Until 1967, every player, coach, referee and GM in the NHL had been a Canadian. And then came NHL expansion, the founding of the WHA, and garish new uniforms. The Seventies had arrived: the era that gave us not only disco, polyester suits, lava lamps and mullets but also the movie Slap Shot and the arrest of ten NHL players for on-ice mayhem. But it also gave us hockey's greatest encounter (the 1972 Canada-Russia Summit), its most splendid team, the 1976-77 Montreal Canadiens, and the most aesthetically satisfying game–the three-all tie on New Year's Eve, 1975, between the Canadiens and the Soviet Red Army. Available online at Chapters for $20.79.
Tickets to see their favorite NHL hockey team. Whether you live in Vancouver, Florida or Nashville, why not give the gift of the game… the real thing a live NHL hockey game. Visit NHL.com today. http://www.nhl.com/ice/tickets.htm

Hockey Accessories / Hockey Equipment – there is an endless amount of gift ideas for the hockey player/hockey fan in your life. Here is but a sample of hockey accessories and equipment that you might want to give the hockey player in your life:
New hockey gloves
Hockey stick (too many to choose from)
Hockey Tape (cloth for sticks, and clear for socks)
New hockey socks with your hockey fans favorite team colors
Hockey pucks
Skate laces (great to have as backup in case laces break just before a game)

An NHL Ugly Christmas Sweater – everyone needs an ugly Christmas sweater for their annual Christmas party. Looking for something to help you stand out at this year's holiday party? An NHL Big Logo Ugly Sweater will turn heads as soon as you walk in the room making everyone wish for one of their own. This super comfy NHL sweater will keep you warm while you're roasting the chestnuts on an open fire. Most teams available. Available at NHL.com. http://shop.nhl.com/Ugly_Sweaters 

High End Collectibles – For the high end hockey fan how about a Wayne Gretzky signed Oilers "TEGATA" Lithograph? This 16" x 24" image is accompanied to the left by Wayne's signed lithograph "Tegata" hand print. Framed, it measures 20" x 28". Please note this is a copy of his original "Tegata" hand print and not his actual hand print. The piece is a limited edition of 99. Available for $1499.99 at the Upper Deck hockey memorabilia store.
An NHL Collectible – maybe a bobblehead of your favorite player? Or how about a signed NHL puck from your hockey fan's favorite player? NHL.com has a great selection of NHL collectibles to choose from. http://shop.nhl.com/Collectibles
Hockey Beanbag Chair – have a Rangers or Bruins fan in your life? How about getting the hockey fan in your life a beanbag chair? You will be hard pressed to find a more comfortable seat to watch your favorite NHL team in! – Available at Pure Hockey – $69.99 

CHL Hockey Memorabilia – How about something for Canadian Hockey League fans? Whether you are a hockey fan following the QMJHL, the OHL or the WHL, there are great gift options for your favorite teams. Maybe you are a fan of the London Knights, or the Rimouski Oceanic, or my hometown team the Kelowna Rockets  there are some fun gift options available. 
Hockey Night in Canada 1970's Blue Blazer – To commemorate 60 seasons of entertaining Canadian hockey fans the most iconic blazer in Canadian history is being made available to the public. Now you can own a piece of Canadian history as worn by on Air Personalities during the 70's, 80s, and 90's. $149.99 at River City Sports. 

Don Cherry's Rock 'Em Sock 'Em Hockey: 25th Anniversary Gift Set – all the great hits and plays from over the years. Great for young and old. Great to watch with your kids or your hockey buds. 8 discs, with a run time of 1,550 minutes. You will get some of the greatest clips of the past 25 years of hockey highlights and Coaches Corner clips. Hockey fans will love this DVD gift set. $54.99 from amazon.ca 
Air Hockey Table – the hockey fan in your life will have endless hours of fun with an air hockey table. Practice your slap shot, because now it's game time! A sleek Air Hockey Table will add fun and excitement to any game room. There are various shapes and sizes including an arcade-style table that features cool graphics, a manual and an electronic scoring system, and a powerful 110 Volt 60 Hertz blower motor. If you love hockey or just some friendly competition, an air hockey table is a must have for your basement or game room! Available at Toys R Us
Bonus Hockey Gift Idea:  Find some old pictures of your husband, boyfriend, son or daughter playing hockey and use them to make a customized hockey calendar.  A nice personalized touch and a fun stroll down memory lane.  They' ll love it.
Of course there are many more gifts that you can give the hockey fan in your life, but these ones are pretty cool.  From hockey books, to hockey equipment and memorabilia there is no shortage of hockey gifts on the market.  Or perhaps is just tickets to your local team in your community.  Good luck with your shopping and please share any cool hockey ideas that you may have with us!